50 percent of workers feel that they could count on the support of their bosses despite the long working hours.

31 percent of companies are in the initial implementation of NOM 35, according to the AON survey.

90 percent of employees in Mexico note a psychosocial risk with high workloads and extended hours.
Human Resources experts have studied for years what "workload" means for both organizations and employees and when it is fair or comparable to the salary received, so it is not surprising that many resolutions point to bad business practices when talking about "work overload" and even the normalization that exists around the poor distribution of tasks, since from the recruitment process companies offer vacancies with requirements such as "work under pressure", where they recognize their poor personnel management and the lack of skills or investment to meet the demands of the position without violating the rights of workers.
This is such a real fact that the same Federal Labor Law recognizes the overload of activities as a modality of workplace harassment and indicator of mental problems generated, because even the NOM35 had to be reformed so that employers and companies in Mexico are governed by specific protocols to prevent their workers from suffering from work stresseither due to traumatic situations, harassment labor or due to poor conditions in the place of work.
According to a recent AON survey, 90 percent of employees in Mexico perceive emotional and psychosocial risks from the workloads and extended work hours that are regularly offered.
The study not only reveals the the need for companies to analyze their internships, shifts, schedules and payment of overtime, but also that industry leaders must prepare to avoid sanctions in the inspections carried out by the Ministry of Labor.
How many vacancies ask for work "under pressure"?
The job offer in Mexico is normally reflected on websites that connect companies and workers, such as Indeed and OCCMundial, where there are diverse vacancies that often reflect the work environment of companies and their personnel management practices, just by reading the requirements or measure its rotation with the quantity and timing of its publications.
One of those parameters is "work under pressure", which is characterized as a requirement that implicitly deducts additional functions from the worker in an excessive, disproportionate and constant manner, something that instead of stimulating the employee, increases their desire for change, increases job desertion, increases levels of stress and depression and, therefore, low productivity and higher business costs.
Experts in the field report that work overload can be seen in small actions, such as when a boss suddenly requests a report or an additional task from the person, with a close delivery time and without releasing him from his activities. routine, which are fully measured in your KPIs without counting this extra work.
On average, about 7 thousand vacancies are offered on the Internet for Mexican employees with the perspective and "philosophy" of "work under pressure"; for instance, In a search of Merca2.0, it was found that 4 thousand 683 vacancies with this requirement are active in OCCMundial, while in Indeed there are 9 thousand 622 job applicants.

---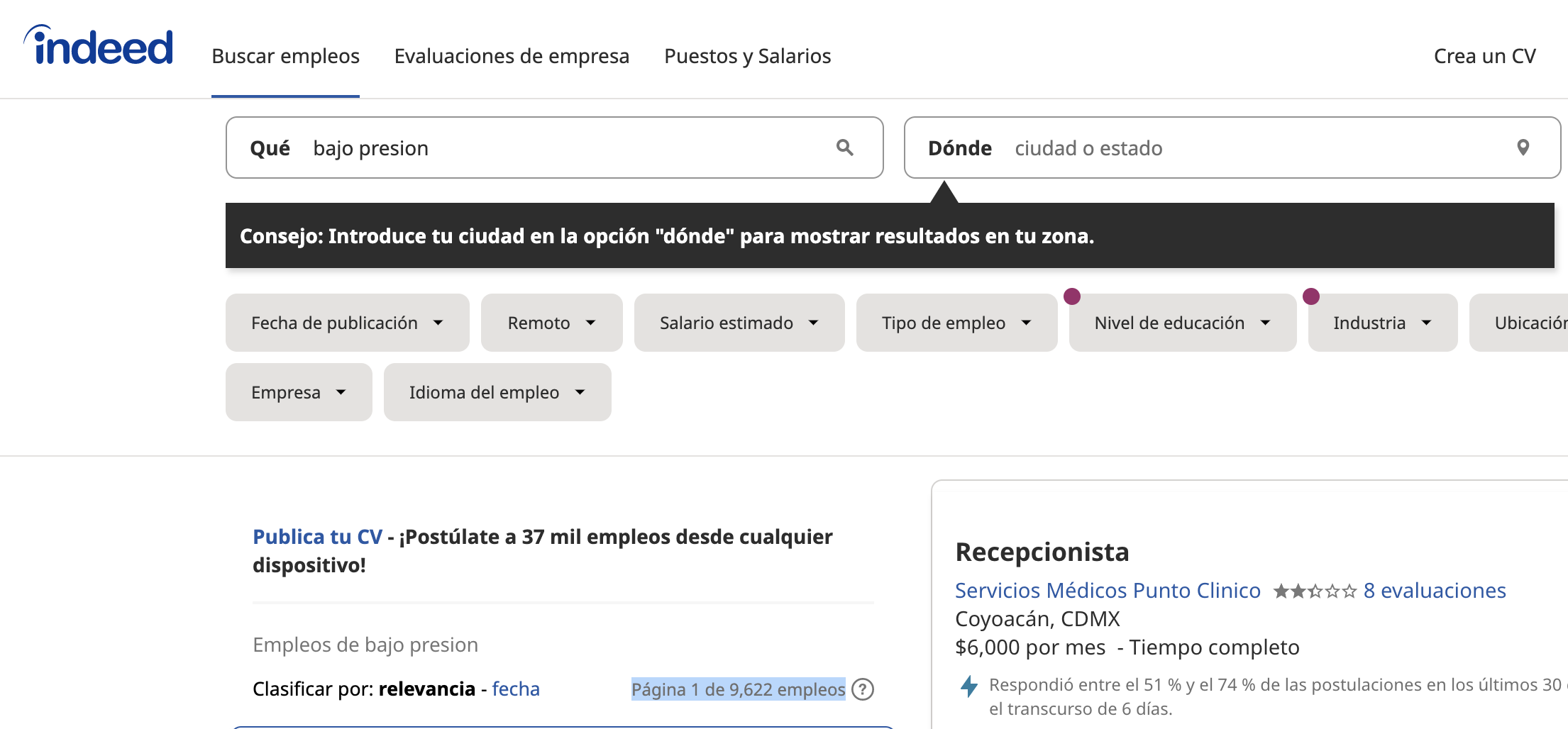 This is just a sample of a common characteristic that many companies have, where they seek, with a conscience of cause, to cover the lack of talent with overtime, generating accidents and physical or mental illnesses in workers, a problem that, without a doubt, must treated, supervised and sanctioned with the application today of the NOM35.
Now read:
"Not being afraid of the dead"; vacancy "freezes" applicants
And UNAM? Vacancies open only for UVM, La Salle, Ibero and Anáhuac students
This is what organizations look for when filling a vacancy