Guy Hedgecoe
BBC News, Madrid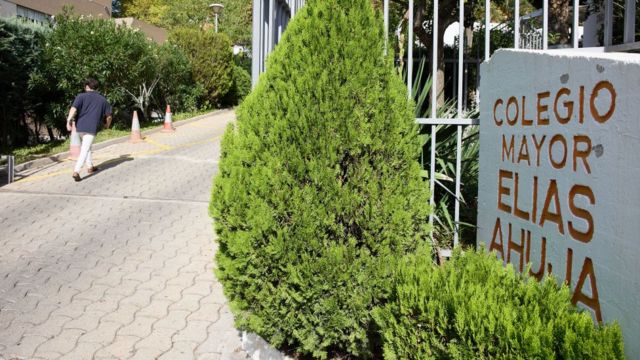 Justice in Spain is investigating a group of male university students who were filmed shouting sexist and obscene messages in front of a female student residence in Madrid.
For days videos have circulated with the Screams uttered Sunday night from the windows of an all-male dorm toward an all-female dorm across the street.
Spanish President Pedro Sánchez criticized the "machista, inexplicable, unjustified and absolutely disgusting behavior" of the students.
The incident has been condemned by politicians of all colors and has sparked a social debate.
In the videos, a student is heard shouting: Whores, get out of youras burrows like rabbits, you are nympho whores".
Then, in a choreographed movement, the companions from all over the building of the Elias Ahuja Residence Hall they open the blinds and start screaming and making animal noises.
Rejection
When the video of the students from the residence attached to the Complutense University of Madrid went viral, there was an immediate reaction.
The Complutense University of Madrid has expressed its "total rejection" of the incident that occurred on its campus, and reported that it had opened "an informative file to analyze what happened and settle responsibilities", and indicated that it will work "with the other universities to apply sanctions to students involved"
For his part, President Sánchez assured that "a type of behavior that does not reflect the sentiment of the majority of Spanish society" should not be excused.
"I think it is important that all political parties and the media say no to these macho behaviors and not take a step back in everything that has to do with real and effective equality between men and women," he said.
The leader of the conservative opposition Popular Party, Alberto Núñez Feijóo, called on society "to put an end to these intolerable sexist attitudes."
The Madrid Public Prosecutor's Office has opened a research to decide whether the act constitutes a hate crime.
Expulsion
The scandal has put the Elías Ahuja residence under scrutiny.
In a statement, the establishment indicated that the episode had been "incomprehensible and inadmissible" and "contrary to the ideas and values" of the institution, expelled to the alleged ringleader and added that other young people involved will attend a course on gender equality.
However, some of the residents of the Santa Monica College for Women, which was the target of the abuse, defended the male students involved and said that the reaction to the incident has been exaggerated.
"Despite the seriousness of your words, this is a practice with tradition between colleges (university residences), from which an impression of hatred and machismo has been created that could not be further from reality," said a statement attributed to the residents of the Santa Mónica accommodation.
It is unclear how many female residents support this statement, which was posted on social media. Others have expressed a very different point of view.
Angela Ruiz, a former resident of Santa Monica, wrote: "I was one of those 'Monicas, whores' and I heard this type of screaming EVERY DAY during the 2 years I spent in college. It's been 10 years of this…" .
Gender equality
The incident takes place at a time when Spain's coalition government is making efforts to promote gender equality and eliminate violence against women.
In May, Congress passed a law, known as the "Only Yes Is Yes" law, making it easier for victims of sexual violence to prosecute their attackers by emphasizing the importance of consent.
A study last year found that one in five young Spaniards did not believe that gender violence existed, but rather saw it as an "ideological invention".
Meanwhile, another disturbing video apparently from the Elías Ahuja residence from several years ago has been circulating. It shows the students giving what appears to be a Nazi salute while chanting the words "Sieg Heil".
Now you can receive notifications from BBC World. Download the new version of our app and activate it so you don't miss out on our best content.