Xiaomi presents the new MIJIA Smart Air Fryer 30L on its crowdfunding platforms in China, a connected and highly capable air oven that will allow you to cook faster, easier and healthier.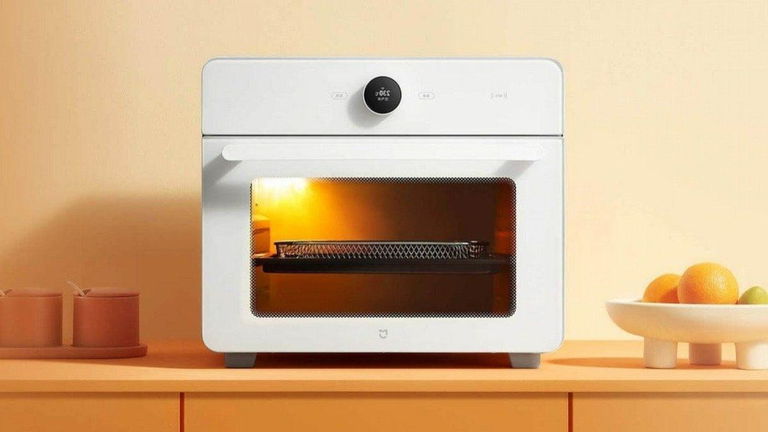 Already had Xiaomi some other similar product like the Smart Air Fryer Pro 4L, and it seems that now the Haidian giant wants to expand its range of small appliances with another air oven which in your case is not so small.
In fact, it is that this MIJIA Smart Air Fryer 30L which is already available on the platforms of crowdfunding of Xiaomi in China, has a not inconsiderable capacity of 30 literswhich allows you to have up to five layers that can be operated simultaneously for baking and cooking.
According to data sheets published by Xiaomi three layers are for baking and another two layers allow cooking in this fryer, whose upper layer can emit hot air with a fan up to 2000 revolutions per minutein addition to setting up other six tubes that help warm air circulate perfectly for all parts of the oven.
Its design is like all Xiaomi products, very white, very simple, very minimalist and very functionalwithout dressings and with everything necessary for the product to offer what the user expects at a very fair price. This has always been the DNA of Lei Jun's company.
In the following gallery you can see the images published in China:
Xiaomi has doubts: do you really want a Dynamic Island on Android?
As GizmoChina told us, in this MIJIA Smart Air Fryer 30L it is not necessary to turn the food for it to cook, well the six cooking tubes are strategically placed at the top and bottom so that the heat is distributed everywhere without major complications.
In addition, when the oven cooks with high speed air, the device is capable of improve food degreasing by up to 15%helping to make food crispier and healthier, low in fat.
The oven reaches temperatures up to 220 degrees centigradehas a 1.32-inch OLED screen in its intuitive control knob, and two touch keys will allow us to modulate the operation of the appliance in a very simple way. It even has independent temperature controls for the top and bottom thanks to two NTC probes, can be individually adjusted to prevent our food from burning or browning more on one side than the other.
It is a very capable oven, with individual temperature control in the upper and lower area and different operating modes, also connected and with the possibility of accessing recipes in the cloud… And it only costs about 130 euros!
And as you would expect from an advanced Xiaomi product, It has NFC connectivity and access to recipes in the cloudvoice control via Xiao AI and platform support on-line MIJIA of the Chinese giant.
Finally, you must know to finish convincing yourself that it also has other additional operating modes such as fermentation, heat preservation, food defrosting, etc…
How much does it cost? Well, in China the MIJIA Smart Air Fryer 30L has set its prices at 899 yuan, about 130 euros at the current exchange ratealthough since last September 21 a period of discounts has been open for early birds that will allow Chinese users to buy it for 749 yuan, or what is the same, about 106 euros more than attractive.
If you also want one, stand in line and arm yourself with patiencebecause it will surely take a long time to reach the official Xiaomi stores in Spain.
Xiaomi endures in Spain as number 1 but falls almost 40% in Europe