Putin cannot back down. If he loses his war of aggression against the Ukraine, he too will lose his power and perhaps much more. The same would happen to the politicians in the government and the Duma who linked his fate, for better or worse, to the head of the Kremlin.
Everyone is in a panic, and in view of the Ukrainians' successes in reconquering their country, Russia is indeed in danger of military defeat. A failure that no one expected in Moscow. This is why Putin now ordered a partial mobilization and the sending of 300,000 reservists to the front to stop the Ukrainian advance; an advance that reflects the desolate state of the Russian Army.
Weakened and isolated?
Just a few days ago, on the sidelines of a meeting of the Shanghai Cooperation Organization (SCO) in Uzbekistan, Putin, trying to appear calm, said that Russia was in no rush with Ukraine. In truth, the world saw a weakened and isolated Putin. The television cameras showed an older man who was made to wait by the other heads of government. Putin, sitting on the sofa like an educated person, listening to what Turkey, India and China had to say. These countries publicly hinted at their rejection of Putin's war and his support for Ukraine's territorial integrity. And rightly so, because the war is suffocating the world economy and, consequently, the power of politicians, from whom Putin expected support in his war against Ukraine.
Change of course in the Kremlin
From the Kremlin's point of view, the situation could not continue like this. Back in Moscow, Putin was in a hurry to change course. After all, partial mobilization means admitting military weakness in eastern Ukraine. With the announcement that a pseudo-referendum will be held in the conquered areas on their accession to the Russian Federation in a few days, it becomes more than evident that the Ukrainians do not want to belong to Russia. And it is that no one will take seriously a pseudo-referendum in the face of cannons and ruins.
Putin wants to secure the looted goods. The conquered territories would become part of the Russian Federation, and then Putin could use all military means to defend the motherland. The "special operation" with expiration of time and space, which had little to do with the daily life of the majority of Russians, has been rhetorically transformed into a defense of "Russian soil" with all the means at its disposal, including nuclear weapons.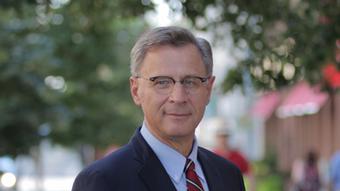 DW's Miodrag Soric.
End of "special operation"
You don't have to be a great prophet to predict the imminent end of the phrase "special operation." The Kremlin's own propaganda will take care of burying her. And in their place will continue to prevail the bizarre and confusing lies, inventions and threats with which state television tries to indoctrinate Russians. In fact, it is already stated that Russia is not at war with Ukraine, but rather defends itself in Ukraine against the United States and England. Whoever wants to believe it, believe it.
World leaders, meeting at the UN General Assembly in New York, will take seriously that Putin is playing with fire again, but his policy towards Moscow will hardly change. kyiv will continue to receive weapons and his Army will continue to fight.
And the 300,000 Russian reservists? They have never been in a war and do not have proper military equipment. They are fathers of families, men, who against their will, will be uprooted from their daily lives. In Ukraine, they are supposed to defend Russia, together with criminals and Chechen mercenaries. This will not give good results. You will see with your own eyes that the Ukrainians do not want to belong to Russia. Tens of thousands of men will die so that Putin and his entourage remain in power and do not have to justify their crimes against their own people. This is the real tragedy of the last wrong decision of the head of the Kremlin.
(rmr/ers)