On Sunday, September 18, a massive filtration about one of the most anticipated games of recent years, the new grand theft auto 6successor to the incredibly successful GTA 5, and a game Rockstar has been working on for years. After many doubts about whether or not the leak would be real, and some confirmations from unofficial sources, it has now been Rockstar who has broken the silence: yes, the leak is real.
However, and although they claim to be "extremely disappointed" by what happened, this leak of about 90 minutes of video and countless images will not affect the game's development plans. This is assured by a release of the company that has been forced to offer after the uncertainty about the veracity of the leak. Because beyond the images of a game that is clearly still in development, the question was, how could this have happened? And Rockstar has confirmed that it was a hack, an unauthorized intrusion by one or more actors who accessed and downloaded files from the company's systems.
On the other hand, many comments are being seen from people on social networks, gamers and, above all, those who are unaware of the subject (that is, of video game development), who say that the leak reveals a "disappointment" in terms of the quality of the next GTA 6, comparing it with last generation graphics (PS4 and Xbox One), among other statements that honestly have no basis or much sense. What has been leaked is a version of the game that is not only still in development, but is a fairly raw version of the game, according to some. insiders. In the same way that we cannot judge a film by filtered images of the filming set, full of cables and fabrics of green or blue color and then put the effects in post production, we cannot judge a game by such an early version of its development.ollo. For that, let's wait for the final version, which in the case of GTA 6 It is expected to arrive between the years 2024 and 2025.
This is the full statement from Rockstar:
We recently experienced a breach of our networks in which an unauthorized person illegally accessed and downloaded sensitive information from our systems, including images of an early development version of the next Grand Theft Auto. At this time we do not anticipate any type of interruption to our games and online services, nor any long-term effects on the development of our current projects.

We are extremely disappointed that details of our upcoming game have been shared with you in this way. Our work in the next Grand Theft Auto It will continue as it is in our plans, while we remain committed to delivering a new experience to you, the players, that exceeds your expectations. We'll be bringing updates to everyone soon, and of course we'll properly introduce this game to you when it's ready. We want to thank everyone for their support in this situation.
G/O Media may get a commission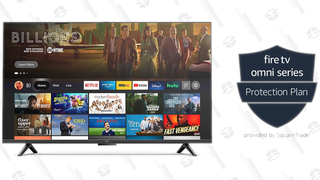 21% Off
50″ Amazon Fire 4K TV With A 4-Year Protection Plan
keep it covered
Means you'll be protected from mechanical and electrical failures and faults on your 4K ultra HD television that has Alexa control, and acts as a hub for loads of streaming services, making them not only easier to access, but also look fantastic.