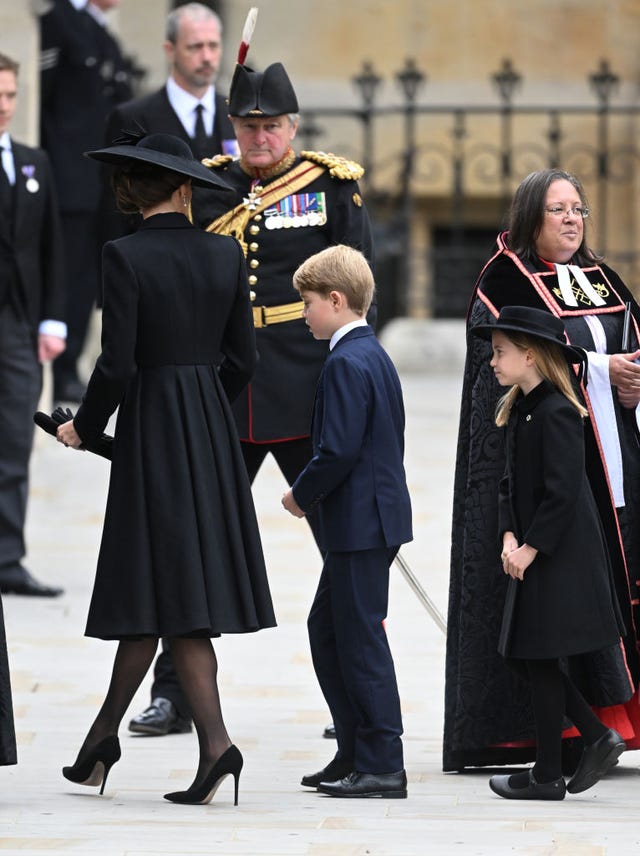 Samir HusseinGetty Images
---
The state funeral for Elizabeth II that was held in Westminster Abbey has become an unprecedented event with more than 2,000 guests, which has brought together the entire British royal family, along with the royals of other monarchies, heads of state and the most outstanding personalities of the political and social life of the United Kingdom. Until the last moment there was speculation about the presence of the queen's great-grandchildren, and finally Princes George and Charlotte have had a very important role in the ceremony.
The new princes of Wales have decided that both George, 9 years old, and Charlotte, 7 years old, are old enough to live up to the protocol that governs this state funeral, and they have attended this appointment. Second and third in succession to the throne, the little ones have been part of the royal entourage that has accompanied the coffin at the entrance to Westminster Abbey.
Princess Charlotte has worn a black cloth coat and a felt boater in the same tone, while Prince George has worn a navy blue suit, with a white shirt and black tie. Both have arrived by car at Westminster Abbey, along with Kate Middleton and Queen Consort Camilla, and there he has met with the rest of the family.
An image that has inevitably brought back to the retina that historic photo in which a young Prince William, barely 15 years old, and his brother Harry, twelve, accompanied the coffin of their mother, Diana of Wales, at her funeral. Dressed in black, the solemnity and sadness that reflected the faces of both brothers went around the world.
Now, the children of Kate and William, sitting next to their parents in the front row of Westminster Abbey, have been the youngest members to be part of that funeral procession, drawing the attention of both those present and the media of communication from all over the world, starring in an image that is already part of history.