The novelties continue to land on WhatsApp with a dropper, and this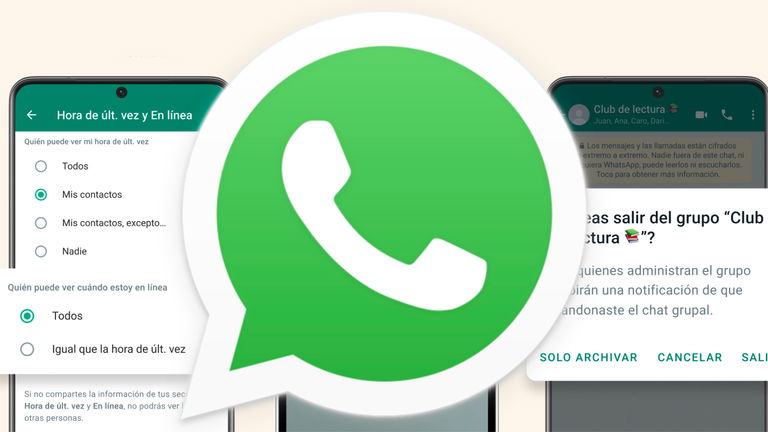 Week after week, WhatsApp is receiving updates aimed at solving bugs, since introduce new features with which to try to improve the experience within the most used instant messaging app in the world. Throughout this last week, the app has received a series of updates that have introduced a total of six different novelties.
Among them, we have been able to find some that are especially useful, such as the possibility of hiding the connection status from everyone, or the option of creating polls in the chats. We are going to review everything new that has come to WhatsApp or is about to do so.
Surveys, hidden connection, new backups and more: the news that are coming to WhatsApp
Most of the news that has come to WhatsApp throughout these days was discovered by the people of the specialized portal WABetaInfo. Many of the changes are present only in the beta version of WhatsApp, and little by little they should land in the definitive edition of the application.
We have compiled all the news in a list that you can consult below, along with the version of WhatsApp where they have been discovered:
Undo "Delete for me" – WhatsApp 22.19.75 for iOS: Allows you to recover a message that you have deleted just for you for a short time after you have deleted it.
Polls in the chats – WhatsApp Beta 2.22.20.22 for iOS: option to create polls in the chats of the application, included in the attachments menu of the conversations.
Hide "Online" status from everyone – WhatsApp Beta for Android: allows you to hide that you are Online when you enter the application to specific users or to the whole world. It is available in WhatsApp beta for some selected users.
New option to import backups – WhatsApp Beta 2.22.20.10: option under development that will allow to import backup files exported on other devices.
Editing messages in WhatsApp Desktop – WhatsApp Desktop Beta: function under development that will allow you to edit messages already sent in the version of WhatsApp for PC and tablet.
Post edit notice – WhatsApp Beta 2.22.20.12 for Android: notice that will indicate to the user the need to update WhatsApp to the latest version in order to see the content of a message that has been edited by the sender.
Many of these new features are not yet available to most users, either because they are in the development phase, or because they are still in the beta version of the application, waiting to be enabled.
In any case, as the days go by we will see how the application is updated to introduce the changes that have been discovered recently. To make sure you don't miss any news, you should make sure you have the latest version of WhatsApp downloaded on your mobile.
For you