The first folding Pixel smartphone would be ready in 2023, and today its production would have already started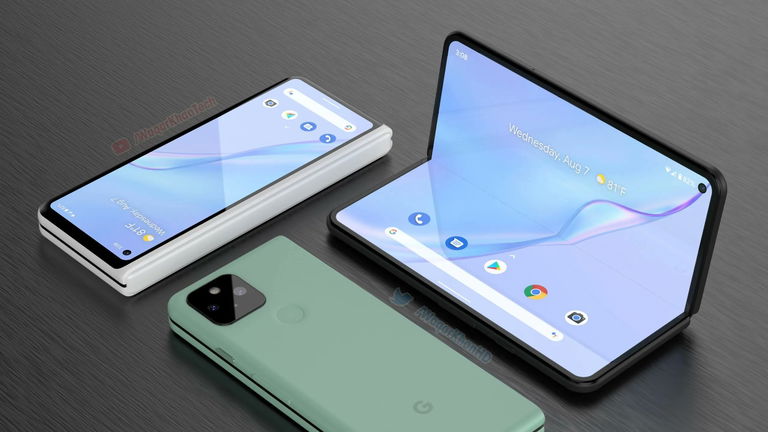 We do not know if it will be called Pixel Fold, Pixel Notepad or something else entirely. What seems to be clear today is that Google is already working on its first folding smartphoneand everything seems to indicate that it will arrive at some point in the next year 2023.
In fact, Google would have already started production of his first foldablewith which it aspires to compete with the future Samsung Galaxy Z Fold 4 and the next folding brands such as OPPO, Huawei or Xiaomi.
At least, this is suggested by a well-known "filterer" of Chinese origin, who points out that the making of the Pixel Notepad It would have started in the Foxconn factories in China, so it would probably not be produced together with the Pixel 7 and Pixel 7 Pro that will see the light of day in October of this year, and whose production would be focused on Vietnam.
The Pixel Notepad or Pixel Fold would already be in the mass production phase
The leaked information indicates that Google is manufacturing the Pixel Notepad at Foxconn's production plants in China. Sources close to the company's plans point out that the device would have a format similar to that of OPPO Find N, more compact than that of Samsung's Galaxy Z Fold models.
Google Pixel 6a review: The "mini" Pixel we wanted, now with a high-end brain
Thanks to code present in the Google camera application, it has been known that Google's first folding phone would have a lower camera system than the Pixel 6 and Pixel 7, by combining a 12.2-megapixel main camera with a 16 megapixel secondary sensor associated with an ultra wide angle lens.
Beyond that, the device is expected to equip a 2nd generation Tensor processorand that its software, based on Android 13, has functions aimed at getting more out of its folding format.
A third Pixel 7 would have entered the production phase
By now, Google has confirmed the arrival of the Pixel 7 and Pixel 7 Pro later this year. In fact, it is known that its presentation could be held in the second week of October
What has not been mentioned so far is that the company would be manufacturing a third model of the Google Pixel family, with even more advanced specifications than those of the Pixel 7 and 7 Pro.
Among them, there is a 2K flexible display with hole on topand a camera system led by a 50-megapixel Samsung GN1 camera (the same as the Pixel 6 and Pixel 7), and with a 64 megapixel Sony IMX787 sensor acting as a telephoto thanks to a periscope-type lens.
Google Pixel 7 and Pixel 7 Pro: exposed the cameras of the new flagships of the American giant
Said sensor is the same that we have already seen in models such as the ZTE Axon 40 Ultra and the Nubia Z40s Pro. All this would be integrated into a ceramic body that would give the device a more premium than that of the other two models.
This device, known by the code name "Lynx", would also have a still unknown sensor, the Sony IMX712 13 megapixels, on the front camera.
It is not clear if this device is the expected "Pixel Ultra" that has been rumored so much over the yearsor if it is a test model that Google would be using to experiment with new camera sensors, finishes, and hardware (which seems unlikely now that we know it would be mass-produced). In any case, the source suggests that is already being manufacturedso that we will probably find out in a short time.