Just released a new context menu in WhatsApp Desktop for Windows, which will make it more comfortable to use the program. It includes the spell checker in the context menu itself, so it will be easy to correct the mistakes made when writing.
The new context menu is exclusive to WhatsApp Desktop beta, the test version for PC. It adapts to the visual design of Windows 11 (and Windows 10 to a lesser extent), and is activated with the right mouse button when clicking on the text box.
Contact cards in WhatsApp: what are they and what are they for
In addition to the spell checker, it includes options for paste, undo and select all, the most used. It also makes it easy to put bold and italics on WhatsApp, as well as strikethrough text.
The new context menu appears to all users of WhatsApp Desktop beta, and it looks like this:
In addition, it has added a visual sound wave in the audioswhich is not of much practical use, but reflects the content of the audio: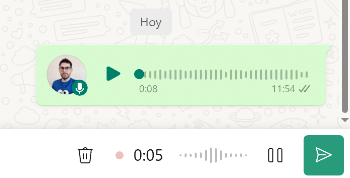 If we want to test it, we only have to install WhatsApp beta for Windows, which is a native UWP-type app. That is, it is downloaded from the Microsoft Store and can only be run on Windows 11 and 10.
That is very unlikely that the news of WhatsApp Desktop beta will reach the stable version. The current version of WhatsApp for computers is a traditional Windows program (Win32 type) that is limited to displaying WhatsApp Web elements.
Most likely, when the current beta version is finished, the native UWP app will become the main one. In fact, WhatsApp beta for macOS was recently launched, also with the aim of providing Macs with a native app.
The new context menu is an example of the improvements of WhatsApp for computers, which by being based on the modern UWP platform offer a superior experience. Given how fast it's progressed in recent months, we should have a much more complete PC version soon.
How to disconnect WhatsApp without removing Internet