The Durango State Attorney General's Office reported the arrest of a woman identified as the alleged person responsible for the murder of a family in the state of Veracruz.
The Crime Investigative Police (PID), in coordination with their counterparts from the entity in question, achieved the arrest through an arrest warrant for a female identified as Yesenia Ivonne "N"for his probable responsibility in the murder of seven members of a family from Lerdo.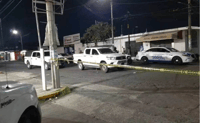 SEE MORE They murder a family of seven members in Veracruz, they will be buried in Lerdo
Neighbors revealed that the victims were merchants
The events occurred on July 3 in the municipality of Boca del Río in the state of Veracruz, where three women and four men lost their lives, including a minor under 15 years of age, due to injuries caused by firearms.
Elements of the Ministerial Police of that state followed one of the lines of investigation that led them to the town of La Gomamunicipality of Lerdo Durango, where, in collaboration with the Laguna Region Vice Prosecutor's Office, they managed to apprehend the 35-year-old woman.
The arrest was made during the afternoon of this Tuesday and it was reported that in the next few hours the woman will be transferred to the aforementioned port, to initiate legal proceedings against her.