Controversial singer Kanye West and Adidas have a love-hate relationship for the popular Yeezy.
Sales of Yeezy sneakers grew 400 percent in 2020 in the United States, according to data from StockX.
The Yeezy Boost 350 are among the first best-selling Adidas models.
Out of nowhere, the Yeezy became one of the most valued products by the German giant Adidas. Especially since 2020, when the company took advantage of the isolation due to the pandemic to launch dozens of models at more affordable prices.
In this way, the dream of Kanye West was fulfilled, that when he left Nike in 2015 and signed a contract with Adidas, he demanded that the launches of his sneakers they were massive.
Years later, the artist's vision became a reality.
The launches of Yeezy Boost they multiplied and almost all those who want to have the popular sneakers can get them.
Even the overcrowding arrived for the Adidas Yeezy Boost without these having lost their exclusive image.
According to StockX data, the best-selling Adidas brand shoe model is Air Jordan 1. And the second, the Yeezy 350.
They even outsell the iconic Air Force 1s in the US.
The interesting thing in marketing of the Yeezy is that it managed to overcome the media stumbles of its creator.
In 2020, for example, Kanye West wanted to present himself as a candidate for president of the United States, he published in Twitter a photograph of him urinating on an awards statuette grammys and said that Kim Kardashian wanted to "kidnap" him.
Kanye West vs. Adidas for the Yeezy
The tension between Adidas and the artist is still present and, to the controversies generated with the launch of the Adilette 22, which West accuses of plagiarism, a new confrontation is added: the singer accuses the German brand of launching the Yeezy Day without your consent.
On August 2, West posted a message on social media saying that Adidas would have presented the classic event without his permission.
According to the artist's accusation, the brand chose the models and materials, hired new members of the team and manipulated information about the production without giving him any details or asking for authorization.
Yeezy Day is not supported by Ye

📸 @ChaseSeesGhosts pic.twitter.com/EBriv98set

— Sole Retriever (@SoleRetriever) August 2, 2022
Added to this, as we said before, is the alleged plagiarism of the Adilette 22. West says that they are the same as the Yeezy Slides.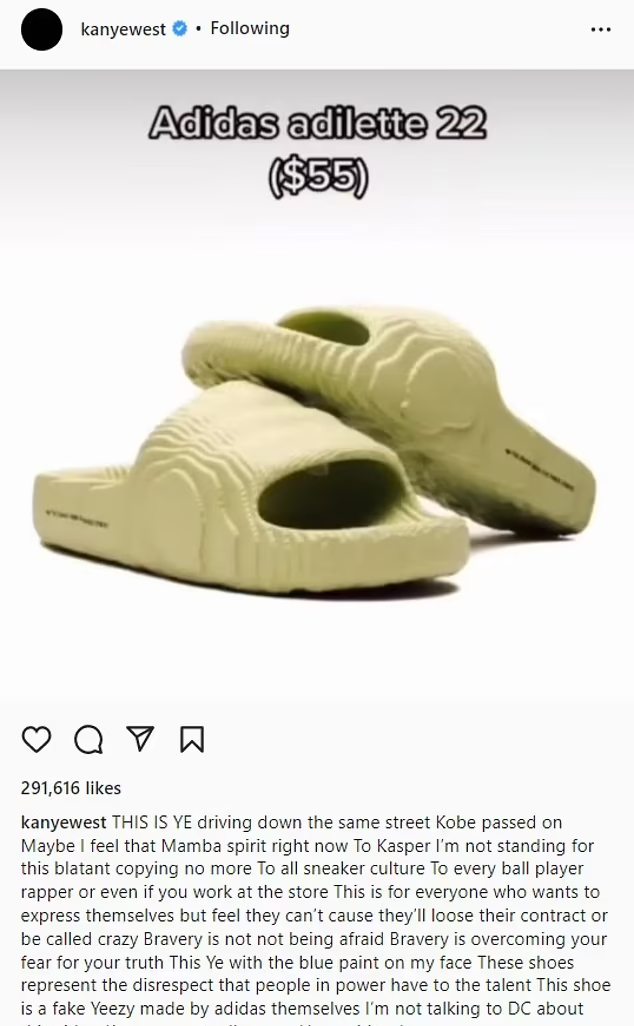 According to the designer, Yeezy represents 69 percent of Adidas sales, a very high number that has not been validated by the brand.
Now read:
Crocs sues store for selling pirated versions
They compare Yezzy sneakers with some of Coppel and come to this conclusion
Former GAP director warned Kanye West not to associate with the brand for this reason