It is now available whatsapp beta 2.22.14.12 download for Android, which this time focuses its news on correcting a problem that is affecting many users. The "Deleting messages…" notification it stays in the notification bar, and cannot be deleted, nor does the process end.
Actually, this error fixed in a previous update and has come up again, so a new patch is needed. We will now explain several options to free up the notification bar, even if we are not ready to jump into a beta version of WhatsApp.
This is what the "Deleting messages…" notice looks like when left locked on notification bar of Android mobiles: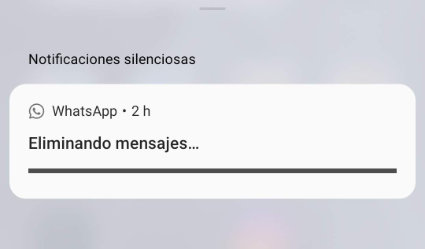 Now we will explain several possibilities for this error to disappearwhich are actually all easy to apply and pretty quick:
If we want to solve the error right now, installing WhatsApp beta on Android is the most effective solution:
Download WhatsApp beta 2.22.14.12 for Android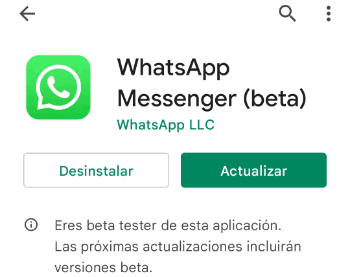 In general, the WhatsApp test version is quite stablebut unforeseen events may arise, so we may prefer to wait for the fix to reach the stable version that is uploaded to the Android Google Play Store.
If we prefer to wait, we must be aware of updating WhatsApp in a few days when the patch is official. In any case, most mobiles have automatic application updates activated.
Meanwhile, some users manage to remove the notification of "Deleting messages…" when restarting the mobilealthough you can go back to leaving shortly after.
The other option is force stop whatsapp, another temporary solution, but useful. The menu where to do it changes depending on the mobile manufacturer, but it is usually a route like this:
Settings -> Applications -> View applications -> WhatsApp -> Force stop
Settings -> Apps & notifications -> Manage apps -> WhatsApp -> Force stop
Settings -> Applications -> Application management -> WhatsApp -> Force stop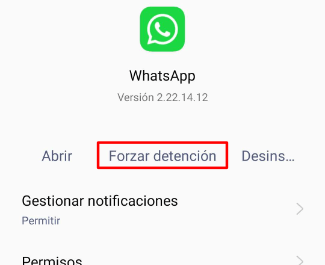 In any case, with the arrival of WhatsApp beta 2.22.14.12 will soon stop seeing the "Deleting messages…" bug, and the notification bar of our smartphone will return to normal. Hopefully it will be the final update, and this annoying warning will not appear again.
12 best sticker packs for WhatsApp